Duration: 5 Days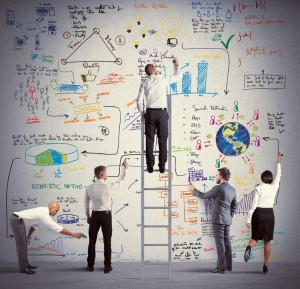 Investment: £1995
Location: London, Pall Mall
Dates: April 2018; November 2018
PROGRAMME OVERVIEW
Successful organisations know that having a clear, integrated value-based marketing strategy makes a radical difference to business performance. However, the constantly evolving market-place places great pressure on any marketing strategy 'in-play' and the question for many organisations is just how effective and up-to-date is it? And, just as importantly does the prescribed strategy have the intended impact at the customer/client interface?
Strategic Marketing Clarity and Execution is a hands-on programme that delivers a high impact experience for managers – providing them with relevant tools, techniques and approaches for successfully choosing and executing the market strategy. This intense five-day programme utilises the SMCE methodology and framework which connects grounded, underpinning theory with the use of Harvard organisation case studies employing our SCART methodology. Throughout the programme, you will be able to use the learned critical analysis and insight which can be applied through a 360° review exercise of your organisation's current marketing strategy in operation.
The SMC&E programme will provide you/your team with the requisite adaptive approach to clarifying the marketing strategy and its intended execution, delivering better organisational performance. Improvements to marketing capabilities can include, for example, improved customer value proposition, customer centricity focus, branding, a greater understanding of consumer/client purchasing behaviour and/or product-service delivery experience, key account management, sales strategy or a combination thereof. Alternatively, the programme could simply (and unusually) provide a robust reinforcement of your current marketing strategy but with further future-proofing. Last but not least, the programme will increase your own personal critical thinking and strategic marketing knowledge skills through evidence based analysis.
WHY CHOOSE THIS PROGRAMME?
Enrich your knowledge and learning experience through case studies, exercises, group discussions, critical incident analogy and reflection
Analyse current organisational market strategy issues
Identify strategic marketing challenges and leave with a 'baseplate' action plan to implement on your return to the organisation
Real-world relevance – programme content is uniquely based on relevant research and case studies of companies with successful marketing strategies
Learn from leading faculty – internationally recognised as business experts
'Takeaway' a working methodology and approach that can be used repeatedly.to enhance/correct organisational performance
CORE CONTENT
Using tools and frameworks that help deliver real effective marketing strategies
An improved understanding of the latest strategic marketing thinking
Integration between the marketing and business strategy
Develop a deep understanding of the customer/client and purchasing behaviour
Creating/enhancing a customer-centric organisation through developing an outside-in perspective across the organisation
Embedding Voice of the Customer (VotC) process in the business
Mapping the customer journey(s) and customer segmentation
Identify and prioritise key accounts and measure their contribution
Key account management planning
Understanding customer value propositions
Developing marketing, multichannel and digital strategies
CRM, the concept of customer lifetime value and measurement
KEY LEARNING BENEFITS/IMPACT
Access to the latest thinking on strategic marketing concepts and assess effective integrated marketing strategies
Gain a holistic outlook of marketing from the viewpoint of the organisation – not the marketing function
Contribute more effectively to business strategy and market success
Develop a market-sense for using customer insights that drive product design, communications, and strategic and operational planning
Adapt to any marketing challenge using a unique framework and new perspectives
Improve brand positioning and embed your brand promise in the organisation culture
Gain a deep understanding of the total process of key account management and more effective key account management
Enhance your skill and confidence in marketing planning that focuses on sources of differentiation
Be able to better use customer insight to drive segmentation and planning
Be able to design value propositions that differentiate your organisation from competitors
Plan and implement customer experience insight, channel management and delivery strategies.
Possess a clear methodology for improving your organisation's customer-centricity across multiple channels
WHO IS THE COURSE FOR?
Participants on the programme include:
Senior managers and directors in marketing, sales, service operations, CRM from all industry sectors
Marketing managers and practitioners
Senior functional managers across business units
Senior sales people and major account managers aiming to develop their planning and customer management skills
Sales and business development professionals
Members of marketing teams
Please note: at the request of the faculty, we are unable to admit external management/HR consultants into the program at this time.
For any question relating to the programme please contact our admissions team on 0207 887 6108 or e-mail admissions@VaLBS.com.