Duration: 5 Days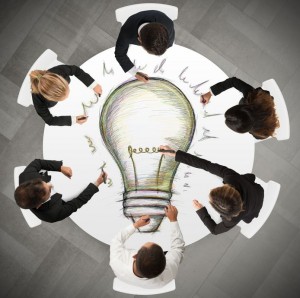 Investment: £1995
Location: London, Pall Mall
Dates: October 2018
PROGRAMME OVERVIEW
Gaining a competitive advantage or delivering requisite products/services on lesser budgets in today's business environment demands that organisations know how to innovate. From the potential entrepreneurial start-up through to the corporate 'new product' team or the latest government departmental productivity 'initiative', creativity, continuous improvement and the ability to turn ideas into action are critical. In addition, quite often, organisations spend money and time and commit resources to developing new products/services only to discover that market adoption (diffusion) is much less/far slower than expected or that, in the case of expected benefits, these are not realised – a question of failed execution or a more fundamental flaw in the original innovation process?
The Innovation and New Venture Creation Bootcamp, the first module of The VaLBS 'Pioneer' programme, is a very intense hands-on programme that takes participants on a significant professional journey which looks at the successful practice of innovation. This involves the application of various methods/frameworks, for example, rapid prototyping, value chain/business model analysis, design thinking, VotC and/or CVPs together with other tools/exercises that enables participants to tackle the myriad challenges to successful commercial innovation. The Bootcamp delivers a high impact experience for those attending, that connects grounded, evidence-based practice with the use of Harvard organisation case studies employing our SCART methodology enhancing critical analysis and insight.
WHY CHOOSE THIS PROGRAMME?
Enrich your knowledge and learning experience of innovation and successful innovation practice through case studies, exercises, group discussions, critical incident analogy and reflection
Gain real-world relevance – programme content is uniquely based on relevant research and case studies of innovation in various scenarios
Discover examples of best practice in innovation management and develop an action plan to help you boost the innovation performance of your organisation
Examine the fundamentals of innovation in practice, from idea generation to execution
Identify/diagnose barriers to innovation in organisations and takeaway a proven framework to make your organisation more innovative
Explore practical steps to address the specific innovation challenges you face and develop the skills to infuse a culture of innovation within your organisation to drive sustainable growth.
Uncover why organisations fail to innovate effectively and how to overcome common pitfalls
Discover how to effectively apply the latest thinking for continually creating new business models, improving customer experience, leveraging value propositions, opening new markets, and launching new products
Join other managers in a dynamic business forum, where dialogue and structured debate challenges, stimulates and inspires
Learn from leading faculty – internationally recognised as business experts
Explain why so many companies struggle with innovation and what improvements can be made
Align innovation with your business strategy and implement it across all areas of your organisation
CORE CONTENT
Understanding and defining the concept  of innovation and its application in organisations
Models and frameworks to assist in the "innovation process"
Developing an Innovation strategy together with a strategic road map
Manage the main types of product, service, process and business model innovation and overcome challenges
Understand the economics underlying established and emerging business models
Identifying and analysing customers' potential needs
Explore case studies of commercial and public organisations to understand innovative commercial practices
The concepts of value curves and differentiation
Innovation across the value chain
Building and maintaining an innovation culture
Corporate venturing techniques
Problem-solving and systems thinking toolkit
KEY LEARNING BENEFITS/IMPACT
Understanding of innovation as a process and many examples of the different types of innovations
Invaluable insights of successful and unsuccessful innovation approaches
Deeper understanding of successful innovation practice
Identifying opportunities for pursuing specific types of innovation and overcoming the challenges
Embedding a culture of innovation across an organisation whilst recognising and dealing with internal resistance
Re-assessing the value chain to develop value-enhancing products/services
Identify an organisation's innovation capabilities and 'capability holes' and its capacity to adapt/change where necessary
Learn how to recognize the key drivers of innovation and understand the critical role of effective leadership
Possess a personalised toolkit of knowledge, practical skills and frameworks
Applying design thinking to connect deep customer insights into what is needed and accelerate team innovation
Using innovation tournaments to surface the best opportunities
Takeaway is applying learning to an individual organisational context and knowledge to create an action plan of how an organisation can boost its output of breakthrough products, services and processes, or develop a more innovative business model where appropriate
WHO IS THE COURSE FOR?
Participants on the programme include:
Executives and senior managers whose organisations need an innovative edge
CTOs, CIOs, R&D directors and senior executives responsible for driving organic growth and developing new businesses
Managers of new businesses and/or who have responsibility to start new projects or ventures within their company or division
Entrepreneurs looking to put their experiences into an broader context
Corporate professionals eyeing entrepreneurship as their next move
Managers/executives in public sector/NFPs with responsibility or interest in service delivery innovation
Please note: at the request of the faculty, we are unable to admit external management consultants into the program at this time.
For any question relating to the programme please contact our admissions team on 0207 887 6108 or e-mail admissions@VaLBS.com.