Duration: 5 Days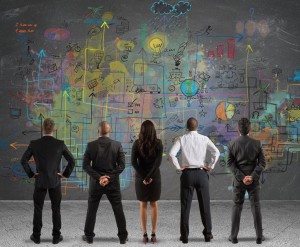 Investment: £1995
Location: London, Pall Mall
Dates: October 2018
PROGRAMME OVERVIEW
New ventures, whether uniquely created or from reinvention, are the driving force behind all economies. Every big company today started from humble beginnings or from an unproven idea. Today's marketplace places high demands on new or existing ventures. 'Venture failure' is countenanced far more today, almost advocated as a precursor to success.  However, ask any entrepreneur and most, if not all, would agree 'getting it right first tine' is the preferred option. So what are the key ingredients that drive success in entrepreneurial companies? How do entrepreneurs capitalise on new ideas? What is their uniqueness? And, how can they avoid 'failure'?
One thing is certain, understanding the proposed business model that encapsulates the chosen product or service, customers/clients, and provides the economic engine to meet profitability, growth or mission objectives is critical. This is true for either new (in discovering) or existing businesses (in defending/evolving). Secondly, a clear plan of mobilisation (with back-up) is needed that requires pinpoint execution. Thirdly, the management team needs to know its strengths, limitations and, most importantly, understand its rationale.
The New Venture Development Bootcamp is the second module of The VaLUENTiS 'Pioneer' Programme that is designed for entrepreneurs to kickstart new businesses or for executives and senior managers to transform existing ones. It is a very intense hands-on programme that takes participants on a significant 'venture journey' delivering a high impact experience for those attending, that connects grounded, evidence-based practice with the use of Harvard organisation case studies employing our SCART methodology – providing new tools and techniques to prioritise thinking and resources that assist in deriving market strategies delivering sales and profit growth. Throughout the programme, participants will be able to use the learned critical analysis and insight which can be applied through a 360° review of the competitive landscape and the intended new venture. Each participant also receives a TI DISC personality profile that provides an accurate insight into their professional/entrepreneurial work style.
WHY CHOOSE THIS PROGRAMME?
Enrich your knowledge and learning experienceof new venture creation, development or re-invention through case studies, exercises, group discussions, critical incident analogy and reflection
Join other managers in a dynamic business forum, where dialogue and structured debate challenges, stimulates and inspires
Gain real-world relevance- programme content is uniquely based on enterprise case studies in various scenarios
Discover examples of best practice in business planning that converts idea generation into viable commercial success
Explore practical steps to address challenges faced and develop the skills to create breakthrough strategies and drive sustainable growth
Discover how to effectively apply the latest thinking/practice to creating new business models, improving customer/client experience, leveraging value propositions, spotting new markets and launching new products
Learn from leading faculty- internationally recognised as business experts
CORE CONTENT
Understanding the importance of the business plan and its purpose as a 'work in progress'
Models and frameworks to assist in strategy, marketing and value chain analysis
Understand the economics underlying established and emerging business models
Deconstructing and reconstructing business models to discover new or non-conventional ideas to create new products/services
Understand the structure and purpose of accounting reports, including cash flow, profit and loss statements and balance sheets
The basics of financial decision-making
Identifying and analysing customers/clients' actual and potential needs
Understand customer/client segmentation, value propositions, multichannel strategy, viral marketing, lead generation and key account management
Understand how you can successfully grow your business and sales profitability, apply new insights and build, manage and motivate your own team
Explore your unique leadership characteristics through a TI DISC personality profile assessment and one-to-one feedback
KEY LEARNING BENEFITS/IMPACT
Understanding the process of new venture creation/development
Invaluable insights of successful and unsuccessful ventures
Possess a personalised toolkit of business knowledge, practical skills and frameworks
Understand the economics underlying common business models and competitive advantage
Analyse the business models of competitors and incumbents
Increased understanding of your customer or client base and how to maximise sales through focusing on key accounts and 'ideal' customers
Identify an organisation's sales capabilities and 'capability holes' and its capacity to adapt/change where necessary
The ability to analyse and interpret basic financial data, from your own company accounts and those of your competitors
Takeaway is the 'kickstart' of a new venture or a business re-invention or simply ideas and 'knowhows' to change the current venture
WHO IS THE COURSE FOR?
Participants on the programme include:
Entrepreneurs and aspiring entrepreneurs looking to put their experiences into a new venture or existing venture
Senior executives responsible for driving organic growth and developing new businesses
Managers of new businesses and/or who have responsibility to start new projects or ventures within their company or division
Executives and senior managers who are looking for inspiring insights to refresh their organisations
Current and future leaders of private businesses seeking innovative transformation
Managers from all functions, organisation sizes and industry types who have, or will have, involvement in strategic planning and implementation
Please note: at the request of the faculty, we are unable to admit external management consultants into the program at this time.
For any question relating to the programme please contact our admissions team on 0207 887 6108 or e-mail admissions@VaLBS.com.